THE call for applications is now closed!
The list of the selected participants is available here-below.
the program
Eureka Series Fall 2023 edition will take place from late September to early December 2023.
In the first days of the program, the participants will be divided into groups. Each group will develop an original series concept in a writers room throughout the 10 weeks of the program.
Learn more about the Eureka Series objectives & methods here.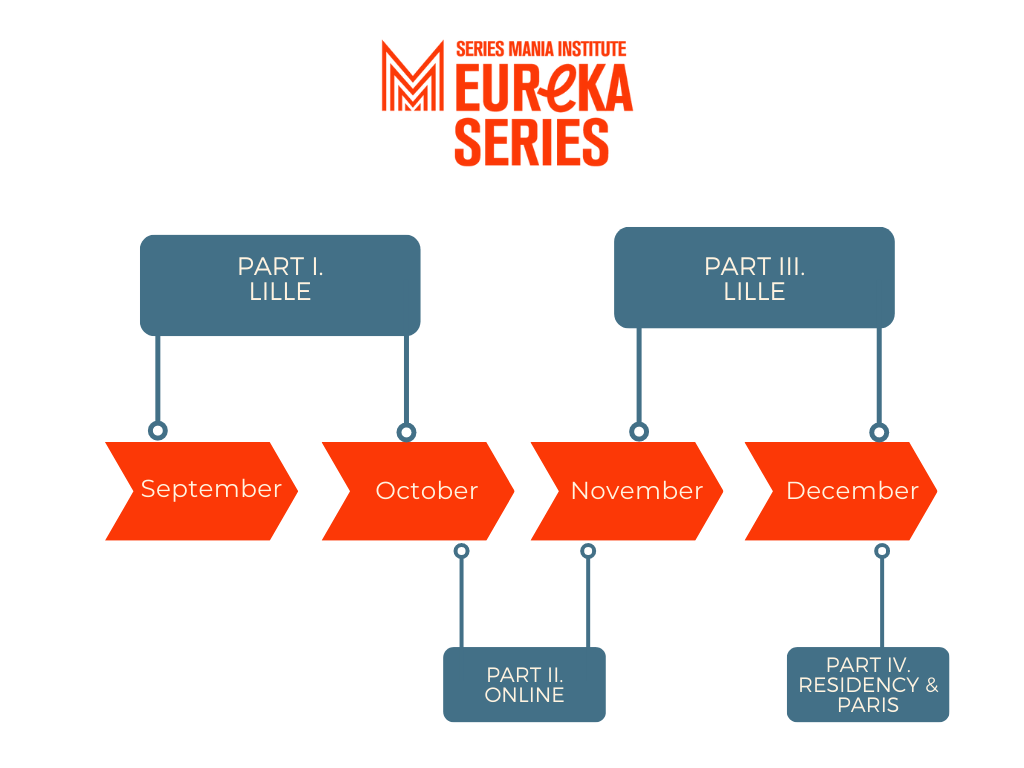 Eureka Series Program is divided into 4 parts:
In the first four weeks of Eureka Series, starting with the introductory seminar on Serial Dramaturgy, participants attend lectures, masterclasses and workshops in order to develop original series concepts in small groups.
Modules: Serial Dramaturgy, Selecting Ideas & Creating Concepts, European Series Markets, Characters & Conflicts in Series, etc.
For two weeks, the participants attend remote, online sessions that include mentoring, case studies and work on group series projects.
Modules: Mentoring, How to Make Series Production Greener, Case Studies, etc.
The participants are back in Lille for the next three weeks of the program to take part in lectures, masterclasses and workshops on their respective group concepts.
Modules: Structuring the Pilot, Pitch Deck & Moodboard, Negotiation, Deals & Contracts, etc.
Part IV – Final Residency in Hauts-de-France region & Final Presentation in Paris
In the last week of Eureka Series, participants take part in a Final Residency to learn how to pitch their series concepts.The Final Residency takes place in the Hauts-de-France region.
The training culminates in a Final Presentation in Paris, during which the original series concepts are assessed by a professional jury.
Modules: How to Pitch & Final Presentation
Location: Lille, France (10 rue des Poissonceaux), and remotely
Language: English
Number of participants: 12 emerging European series professionals
requirements
Target audience: the program is aimed at emerging screenwriters, with a strong professional interest in series writing. It includes, but is not limited to, recent alumni of European film and television schools. Creative producers with a screenwriting background are also welcome to apply.
Requirements: Selected applicants must have already written a script (TV series, online drama series, short film or feature film), whether or not it has been produced.
The applicants will be asked to provide an example of previous work (sample script).
Latest update: 10/07/2023