Series Mania, PFDM & EWA Network honor Nicola Shindler, Executive Producer and Chief Executive of Quay Street Productions, with third"Woman in Series Award"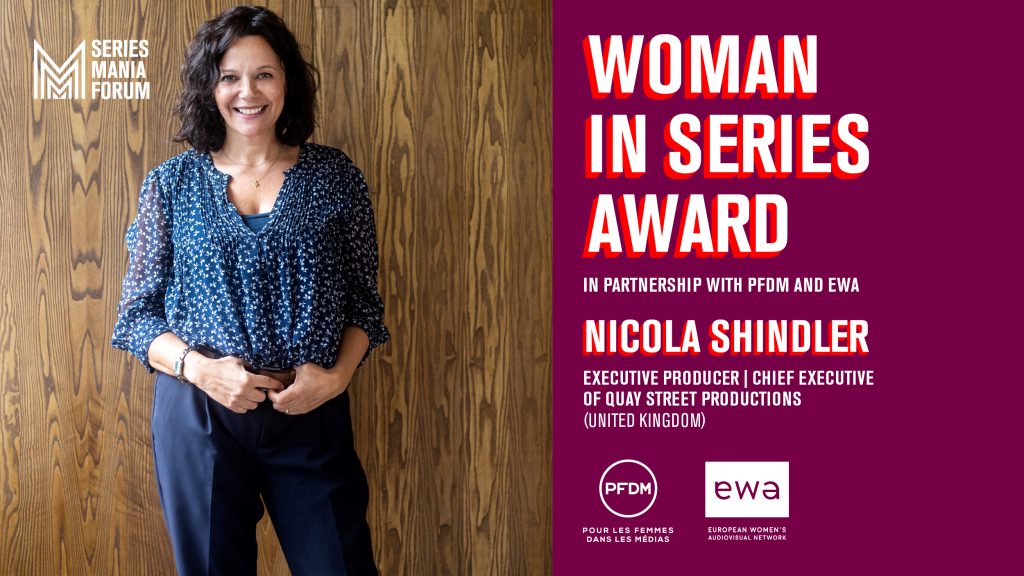 To mark 2023 International Women's Day, Laurence Herszberg, Founder and General Director of Series Mania, and Francesco Capurro, Director of Series Mania Forum, announced Nicola Shindler, Executive Producer and Chief Executive of Quay Street Productions, as the recipient for its third annual "Woman in Series Award." Last year's award went to Mo Abudu, EbonyLife Group CEO.
This award, in association with European Women's Audiovisual Network (EWA Network) and Pour Les Femmes Dans Les Médias (PFDM), is given to a remarkable woman from the audiovisual industry to honor her vision and leadership. Nicola Shindler will be presented with her award on March 21 in Lille.
In addition, she will be speaking about her career that will look at the relationships she builds with writers, as well as her vision for producing engaging drama for a global audience.
"When we launched the 'Woman in Series' Award in 2021, our mission was to highlight and value the work of women within our industry as this is something that is incredibly important to me and close to my heart. I am incredibly honored to presenting Nicola with our award this year. As the founder of Quay Street Productions, coupled with her 25 years' experience as a multi award-winning British television producer, Nicola is a true leader in every sense of the word and is certainly worthy of this wonderful award," commented Laurence Herszberg.
Nicola Shindler OBE is a prolific, multi award-winning British television producer, who has worked with some of the most lauded names in television and created some of its most memorable series. In a career spanning over 25 years, Nicola Schindler has produced ground-breaking, entertaining, award-winning drama, from Queer as Folk (Channel 4), Last Tango in Halifax (BBC), and Happy Valley,Years and Years (BBC/HBO), to It's a Sin (Ch4/ HBO), …
Renowned for her relationships with writers, Nicola has worked with an array of the UK's most prolific and exciting writing talent including Russell T Davies, Sally Wainwright, Lenny Henry, Paul Abbot, Dan Sefton, Tony Marchant, Amelia Bullmore, Danny Brocklehurst, Matt Greenhalgh and Sarah Solemani, on series starring some of the world's leading on-screen names.
Her latest drama series, the first Quay Street Productions drama, is Nolly. Written by Russell T Davies and starring Helena Bonham Carter, the series will be presented on March 21st as part of the festival's official selection. In 2019, Nicola was awarded an OBE and took home one of BAFTA's highest honours, the Special Award, for her services to British Broadcasting.
Commenting on being honoured with the award, Nicola Shindler said "I'm really honoured to receive Series Mania's Women in Series Award. I love making drama, and to be recognised for my body of work is a privilege. I started in this industry because I love storytelling, and I wanted to make shows that try to change the world a little bit and really importantly, entertain. I've been lucky enough to work with some of the most incredibly talented people – writers, producers, directors and so many more, who have enabled me to do so, and I have to thank them for their commitment and support. I'm excited for the next chapter with my new production company Quay Street Productions, having just launched our first drama, Nolly, and we're in production on several more series. I can safely say that I love making drama as much as I always have, and I hope people continue to enjoy our productions."
Nicola Shindler founded Quay Street Productions in 2021, to make contemporary, provocative, entertaining, and engaging drama for U.K. and global audiences.
This new production company, which is part of ITV Studios, is based in Manchester. Quay Street Productions puts the writers and talent at the center of the production process. Welcoming voices from all different backgrounds, Quay Street Productions promotes a diversity of storytelling working with new and established writers.