Series Mania+: Experience the Forum from home

Created in 2020, Series Mania's digital platform ensures that series industry professionals can access and participate in Series Mania Forum no matter where they are. This year, Series Mania Digital becomes Series Mania+. The "+" sign – the symbol of streaming platforms – is the graphic element Series Mania chose to design its brand new digital identity. A significant move which naturally evokes the extension of the Festival, Forum and Institute's experience online.

Hence, registrants can enjoy a privileged space with a broadcast (live then replay all year long) of all content, events and conferences offered on site.
What is SERIESMANIApLus.COM?
Your online tool to watch live and in replay all Series Mania Forum's conferences, discover new projects in development and meet series industry professionals.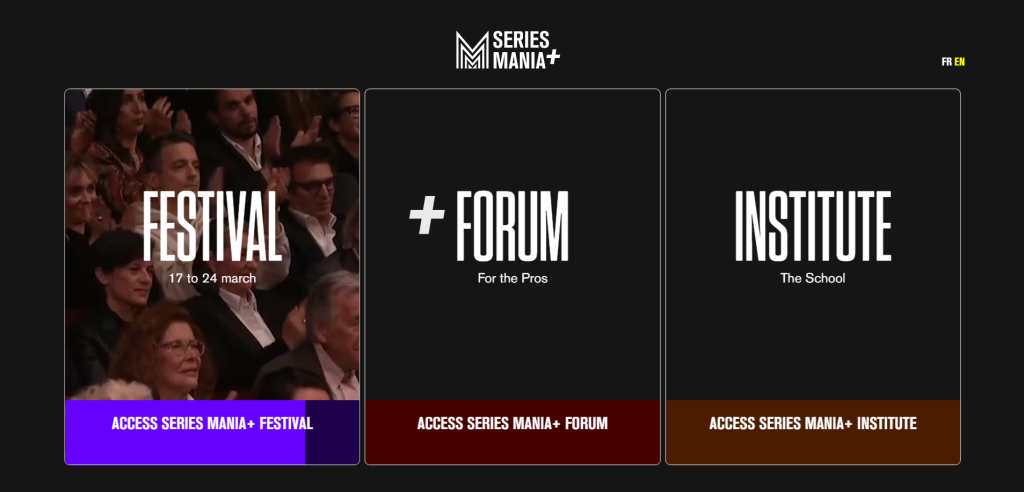 What will I find on the platform?
Access to a directory of international series professionals through the Who's Who.
A diverse line-up of international projects and IPs, at different stages of development, as selected by Series Mania and its partners.
Access to a directory of emerging industry talents who participated in the writing residencies and training programs of Series Mania.
Inspirational content, which provides a better understanding of the current issues of mass production

A screening room to get exclusive access to the festival's series and sponsored screenings during and 2 weeks after the event.
When and how can I access the platform?
The platform is only accessible to Forum registrants. The purchase of a registration to the Forum will grant immediate access to Series Mania+ for one year. The selection of books and podcasts (IPs Books & Podcasts) is, however, open to everyone all year long.