By Marion Miclet | @Marion_en_VO

Sometimes it's a totally make-believe town, like the infamous Hawkins of Stranger Things. Sometimes it's a series of disconcerting temporal landmarks, such as in Sex Education and Bridgerton… Why are more and more TV shows being so clearly unclear regarding where and when their stories are set? Could it be that the vaguer they are, the more effective their message?
In the newly released fourth and final season of Sex Education on Netflix, the teenagers' hormones are still all over the place. But it's not just in the sexual and emotional realm that confusion reigns. From the start, the show created by Laurie Nunn displays a retro vibe and playful visuals that blend various eras and cultures. Moordale is a fictional British high-school endowed with American attributes: the rows of lockers and Jackson's varsity jacket are straight out of a John Hughes movie. The characters sport colorful styles, with influences spanning from the 1950s (the Groff family) to the 1970s (Aimee) and 1980s (Otis). Nonetheless, contemporary issues are always front and center of the story – sexting and gender-affirming surgery in this new season.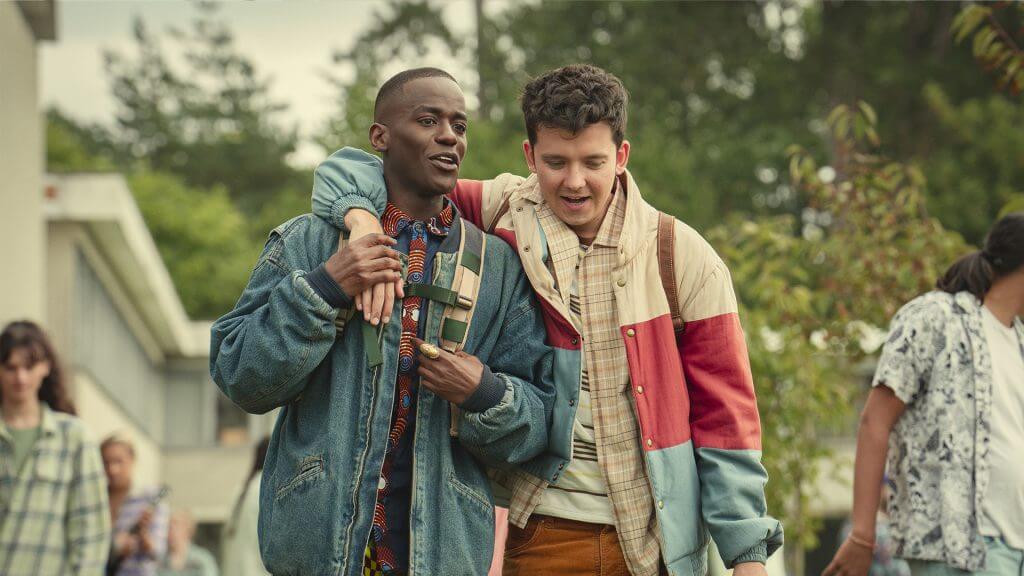 Beyond the quirky aesthetics, the narrative stakes are high: Sex Education aims to position itself as a timeless and universal tale so as to encourage audiences to question their prejudice. And it is not the only show that maintains a nebulous atmosphere by mixing historical references and/or inventing localities that cannot be found on a map. From Severance to Black Mirror, Midnight Mass and Mythomaniac, how can we define this genre that borrows from alternate history, retrofuturism and "modern vintage," while creating something entirely unique? What are the advantages of keeping us disoriented?
From the SHOWRUNNER's perspective
As the Sex Education showrunner points out: "The hook of it is so heightened – it's about a kid that gives out sex advice in a toilet cubicle – we needed the heightened, aspirational world to match that." Certainly, modern audiences have a thing for nostalgia but, in this case, form and substance really come together. At first glance, what the teenagers wear makes them look stereotypical (the jock, the cheerleader, the nerd, the grunge etc.), but that's to better subvert our expectations. Aimee's sartorial trajectory, in particular, reflects her psychological evolution. By changing styles, she overcomes the trauma of her sexual assault – her healing journey culminating in an unforgivable bonfire. We are miles away from the flashy visuals of Emily in Paris, devoid of any meaningful symbolism. In Sex Education, the music, architecture, accents and amped-up sex scenes all come together to build a utopia where teenagers are free to explore their desires. Inclusivity is therefore as graphic as it is thematic.
The music, architecture, accents […] build a utopia where teenagers are free to explore their desires.
This voluntary vagueness can be found in other stylized teen dramas, often adapted from comic books: Riverdale, Chilling Adventures of Sabrina, Wednesday, The End of the F***ing World, 13 Reasons Why. Their characters are shaped as everyday-life superheroes (or super-villains), to whom the writers gradually add layers of depth. According to Roberto Aguirre-Sacasa, the Riverdale creator quoted in The Guardian: "Riverdale is a little more of a noir or a Lynchian story. It's not just a coming-of-age tale. It has this mystery and a subversive element to it that I think helps differentiate it from earlier shows like The OC."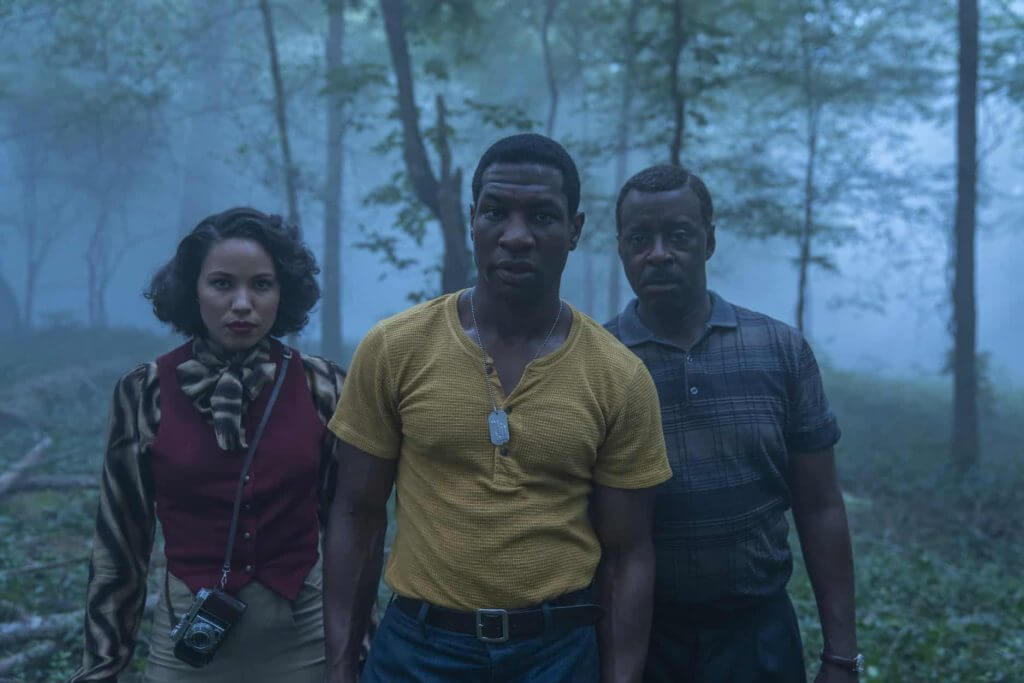 From a broader view, it looks like we are in the midst of a rise of allegories on the small screen, in reaction to the all-pervasive genre of true crime and its obsession with veracity. Indeed, showrunners who rely on a retro quality and archetypal characters are free to tackle taboo or controversial topics, without resorting to the "inspired by true events" type of storytelling. Take, for instance, HBO's supernatural horror drama Lovecraft Country. While it unfolds during the Jim Crow era in the fictional town of Ardham, it directly echoes today's Black Lives Matter Movement. The fact that the show's timeline is quite elastic, and that the narrative combines various elements of genre fiction, doesn't dilute its political significance in the slightest. We could say the same of "pop" period dramas such as Bridgerton, The Great and Dickinson. Their playfulness regarding historical accuracy is actually groundbreaking. The anachronistic feminism and diverse casts are a breath of fresh air in a genre that can otherwise feel too formal.
From the distributors' perspective
So, when did this trend of not being explicit regarding time and place become a thing? In the 1950s and 1960s, the TV series Doctor Who, Batman (Gotham City being the ultimate composite) and The Twilight Zone all brilliantly presented us with disorienting atmospheres and punchy visuals. But it wasn't until the 1990s that this phenomenon snowballed, with Gilmore Girls and Twin Peaks. These two auteur shows, which take place in the made-up towns of Stars Hollow and Twin Peaks, respectively, seem, at first glance, to have little in common. That being said, they share a love of sepia tones, an obsession for bottomless diner coffee and a somewhat confusing temporality (1989 meets the 1950s in Twin Peaks and seasonal festivals are in constant rotation in Gilmore Girls). In essence, they both embody an Americana vibe reminiscent of Norman Rockwell paintings. This pronounced identity, even though it is falsely-idyllic, has granted them a long-lasting popularity: rewatch, reboots, podcasts… they are consumed in a seemingly infinite loop.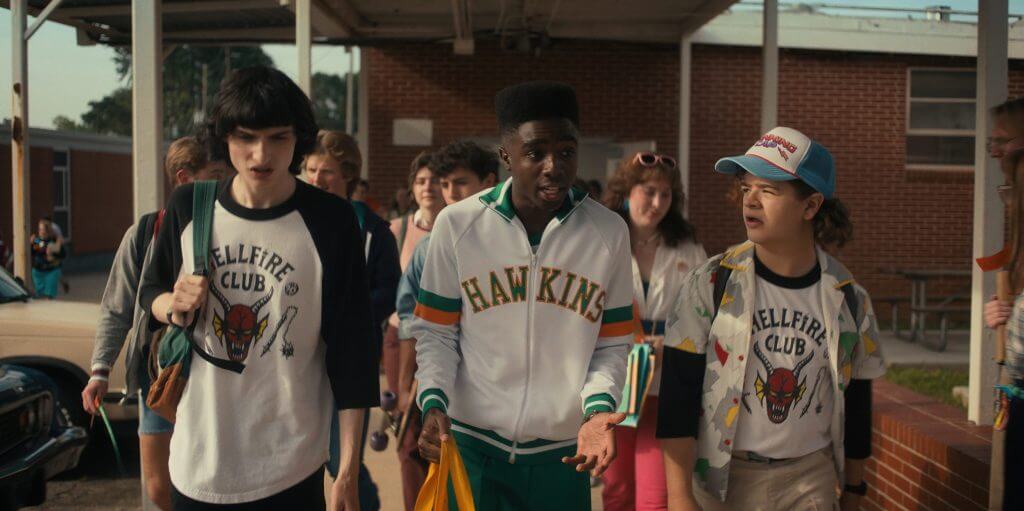 And that's exactly what streaming platforms are seeking for their libraries: content that doesn't expire, and that doesn't contain overt partisanship or hot button topics that could trigger a backlash. Additionally, these productions are easier to export worldwide. Hence, the proliferation of shows with blurry landmarks these past few years. In this regard, Stranger Things is a stroke of genius – artistically-speaking, but even more so from a commercial standpoint. It takes place in a timeless interpretation of the 1980s (cheaper to recreate), that has all generations hooked, and in the most infamous imaginary town of all times, Hawkins, Indiana. The French TV landscape has adopted the trend with unclassifiable, but unforgettable, series such as The Returned, Mythomaniac and, more recently, Rictus, a dystopian comedy set in a world where laughing is forbidden.
As we have seen with the examples cited above, when these shows that keep us in the dark in terms of "where and when" are successful, they draw very large audiences and enter the zeitgeist, a German term that can be translated as "the spirit of the time." So, ironically, TV series that try to escape any type of identifiable chronology end up defining their era. 2023 will therefore always be the year when we said goodbye to Sex Education, even though the teenagers of Moordale, for their part, will never age.
Are you looking at me? When TV characters break the fourth wall
From Malcolm in the Middle to House of Cards, Fleabag and The Serpent Queen, the highly efficient TV trope of breaking the fourth wall is having a moment. And what, if anything, has changed since its introduction on our television screens?
Discover