In an exclusive interview, the composer of the No Man's Land series, Rutger Hoedemaekers, talks about the soundtrack, its behind-the-scenes production, its inspirations and reveals 5 preview titles!

Pitched at Series Mania Forum 2017 under the title Fertile Crescent, No Man's Land  received the 50 000€ prize for Best Project as part of the Co-Pro Pitching Sessions and was selected in International Competition at Series Mania 2020.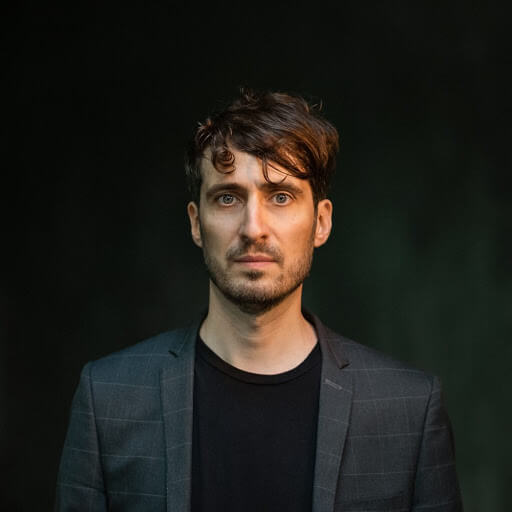 Interview
You've worked on two European TV shows No Man's Land and Trapped. What are the major work steps of music composing for TV drama?
I like to think about it in a way that there is no formula. It's a lot of fun when the director or the producer is open to start the conversation about music in the early stages of the production. I've worked on projects where there has been music even before the shooting, to create an atmosphere with the actors on set. Every production is different. On Trapped, we were added to the team while they were already editing the show. It depends what the director is looking for and what he thinks the role of the music should be. Sometimes it's great to create from the images, sometimes it's interesting to go in the psychology of the characters.
I like to think about it in a way that there is no formula.
And how did you work on No man's land?
I created most of the music while they were already shooting. It then became a conversation with the editors who had a lot of freedom and could take elements of my music and move them around to see what worked best. They even created combinations of musical elements that I had not intended to be as one piece of music. I enjoy those creative moments. It's exciting to create something you didn't expect.
No Man's Land plot takes place in a large variety of places and with different languages. To what extent does this eclectic geographic and linguistic field influence your work?
With the director,  Danis Tanovic, we wanted to stay away from traditional Arabic or Kurdish music. I am a European white man and it would have felt very strange if I'd tried to copy something that is not my field. What we tried to do was to take the series on a completely different sound world, not connected to any of the places.  Danis Tanovic was very interested in industrial electronic music he loved from the 80s, 90s and 2000s. So we tried to go more in that direction.
the only time we used a traditional instrument, we didn't use it the way it's supposed to be!
The only Kurdish instrument I used was a daf, a large frame drum with a row of chains inside that's originally played by hand, but we used a small tool to hit it and then converted the beat into an electronic sound. So the only time we used a traditional instrument, we didn't use it the way it's supposed to be! I also worked a lot with a violinist to create a sound that feels violent building up the tension in the series.
No Man's Land is also a realistic war series. How do you fit music in such a violent and dramatic story?
In most of the action scenes, there's no heavy music and in some cases, no music at all. I think when there's already so much going on, anything you put on top can almost feel like you're making a joke out of it. Action scenes also physically leave very little space for music to fit in the mix and so it's better to be quiet at those times, I find it stronger. Heavy music or sound would normally be used in slower scenes where there isn't so much happening to make it a bit heavier or a bit stranger. 
What were your inspirations and references while composing the soundtrack for this series? Did the director or the producers give you some tracks to listen to?
Not that much. It started as I said with industrial music, we talked about the German band Einstürzende Neubauten and the English group Throbbing Gristle, only very noisy type of electronic music. For soundtrack references, the score of Full Metal Jacket was also mentioned as an inspiration. To be honest, I don't remember. At some point the soundtrack just becomes its own thing, you try to work in that little universe and be true to it.
For which series would you have dreamed of composing the soundtrack?
Chernobyl's tv series soundtrack is fantastic. We've shared our studio in Berlin with several film composers and Hildur Guðnadóttir, who composed this soundtrack, was in the room just next to mine. That's such special work, she won enough prizes to prove it! It's such a powerful series, and the music plays a big role in it.
What are your favourite soundtracks?
Full Metal Jacket composed by Vivian Kubrick [Kubrick daughter worked under the name of Abigail Mead] is a very special score to me. The original Blade Runner by Vangelis and more recently Interstellar, even if I'm not a big fan of Hans Zimmer scores, this one is very subtle, very special.
I recently watched a Japanese British co-production called Giri\Haji […] the whole thing was just beautiful.
What TV shows are you watching right now?
I recently watched a Japanese British co-production called Giri\Haji. It's a very interesting production where I felt that everything fitted together: the music, the story, the characters, the acting and, you know, the whole thing was just beautiful. There were some really strange parts as well, for instance, a beautiful dancing scene at the end, that captivated me. More recently I loved The Queen's Gambit. It's more traditional music-wise but well done and fun to watch.
What are your upcoming projects?
I'm working on a VR project at the moment. It's different from what I'm used to but a lot of fun to work on. I feel like there is a virtual reality migration for the creators so it feels like a good place to be in our current times. I'm also working on the release of a solo album in March next year so there's a lot to do with that.
Series mania exclusive
Discover a preview of 5 titles from the soundtrack of the series.
Official release on November 13 (Lakeshore Records).