Applications for the Eureka Series Fall 2022 session are now closed.




Discover the 12 selected partcipants below.
Selected participants
Allegue Ludivine (France)
Alméras Mathilde (France)
Ambel Meyer Marta (Spain/France)
Berfin Altinisik Melek (Turkey)
Furfari Michele (Italy)
Grytsenko Oksana (Ukraine)
Koum Victoria (France)
Musacchio Gaia Marianna (Italy)
Notaro Tania (Ireland)
Pochoy Jean-Loup (France)
Toujas Vincent (France)
Trémolières Lucie (France)
Eureka Series fall 2022 Program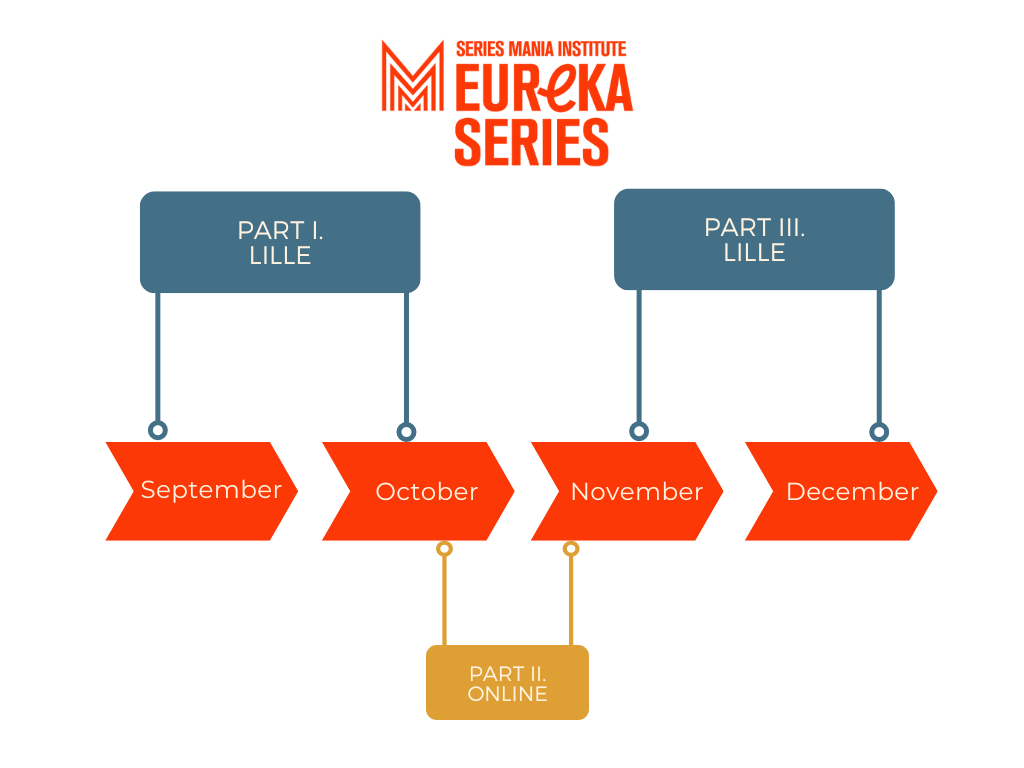 Eureka Series Program is divided into 3 parts:
Part I: Serial Dramaturgy, European Markets & Concepts Definition – in Lille
The selected participants will take part in Lille during the introductory seminar from September 30 to October 2, then during the first four weeks of EUREKA SERIES, in lectures, masterclasses and practical workshops on their respective group European series concepts.
September 30 – October 28: Serial Dramaturgy ; Creating concepts ; European Series Markets ; Characters & Conflicts in Series ; How to Develop a Season ; …
Part II: Online Work & Case Studies – remotely
For the following two weeks, all participants will attend remote, online sessions that include mentoring, case studies and work on group series projects.
October 31 – November 11: Online meetings with industry mentors + How to Make a Greener Series Production + Case Studies
Part III: Pitch deck, Negotiation & Distribution – in Lille
The participants will be back in Lille for the last four weeks of the program to take part in lectures, masterclasses and practical workshops on their respective group European series concepts.
November 14- December 8: Structuring the Pilot ; Pitch deck ; Negotiation, Deals & Contracts ; Marketing ; …
During the last week of Eureka Series, the participants will learn how to pitch their series concepts. The training will culminate in a final presentation in front of an audience of industry professionals.

TERMS & CONDITIONS
Read Eureka Series Fall 2022 Edition full terms and conditions here
Eureka Series Alumni
Meet Eureka Series selected writers and/or producers from all over Europe!
Discover
Eureka Series – FAQs
Frequently asked questions about Eureka Series.
Discover
Latest update : 10/2022