THE call for applications is now open!
the program
Eureka Series Fall 2023 edition will take place from late September to early December 2023.
In the first days of the program, the participants will be divided into groups. Each group will develop an original series concept in a writers room throughout the 10 weeks of the program.
Learn more about the Eureka Series objectives & methods here.
.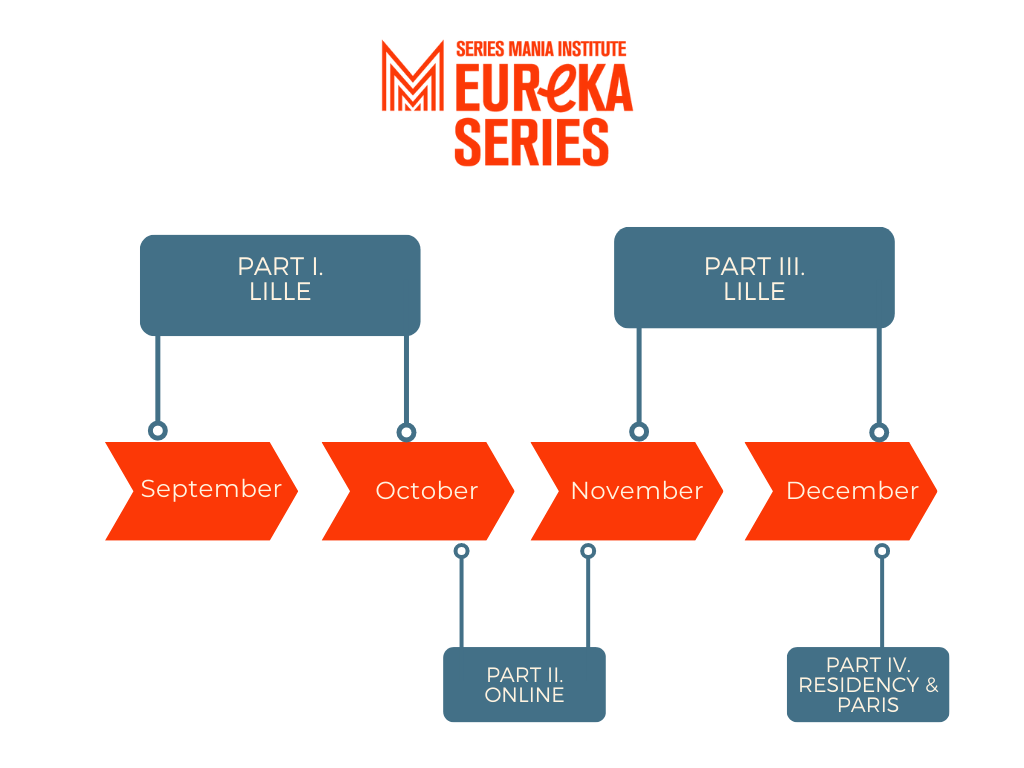 Eureka Series Program is divided into 4 parts:
In the first four weeks of Eureka Series, starting with the introductory seminar on Serial Dramaturgy, participants attend lectures, masterclasses and workshops in order to develop original series concepts in small groups.
Modules: Serial Dramaturgy, Selecting Ideas & Creating Concepts, European Series Markets, Characters & Conflicts in Series, etc.
For two weeks, the participants attend remote, online sessions that include mentoring, case studies and work on group series projects.
Modules: Mentoring, How to Make Series Production Greener, Case Studies, etc.
The participants are back in Lille for the next three weeks of the program to take part in lectures, masterclasses and workshops on their respective group concepts.
Modules: Structuring the Pilot, Pitch Deck & Moodboard, Negotiation, Deals & Contracts, etc.
Part IV – Final Residency in Hauts-de-France region & Final Presentation in Paris
In the last week of Eureka Series, participants take part in a Final Residency to learn how to pitch their series concepts.The Final Residency takes place in the Hauts-de-France region.
The training culminates in a Final Presentation in Paris, during which the original series concepts are presented to an audience of professionals from the industry, and assessed by a professional jury.
Modules: How to Pitch & Final Presentation
Location: Lille, France (10 rue des Poissonceaux), and remotely
Language: English
Number of participants: 12 emerging European series professionals
requirements
Target audience: the program is aimed at emerging screenwriters, with a strong professional interest in series writing. It includes, but is not limited to, recent alumni of European film and television schools. Creative producers with a screenwriting background are also welcome to apply.
Requirements: Selected applicants must have already written a script (TV series, online drama series, short film or feature film), whether or not it has been produced.
The applicants will be asked to provide an example of previous work (sample script).
application process

EUREKA SERIES FALL 2023
The application process is divided into 3 steps :
An application form online (see below), with the following mandatory documents to be provided in English:

Resume
Cover letter
Analysis of an European TV series (maximum 1 page)
Sample script from 5 to 10 pages (produced or not)
Copy of your national ID or passport, as well as a headshot
For pre-selected applicants, a short presentation video will have to be posted on the Eureka Series private online community (details will be sent to pre-selected applicants alongwith the results)
Online interview with the selection committee for each pre-selected applicant
For further informations, you may refer to our rules and regulations, or send us an email at smi@seriesmania.com
key dates
Call for applications of EUREKA SERIES Fall 2023 is open from April 17 to June 15, 2023.
April 17, 2023: Launch of applications
June 15, 2023: Applications deadline
June 28, 2023: Publication of pre-selected applicants
July 3, 2023: Deadline to send introducing videos on the Eureka Series private online community
From July 5 to 7, 2023: Remote interviews
July 10, 2023: Announcement of selected applicants list

Eligibility
Candidates must be over 18 years old or above and be a citizen of one of the following countries: Albania, Austria, Belarus, Belgium, Bosnia and Herzegovina, Bulgaria, Croatia, Republic of Cyprus, Czech Republic, Denmark, Estonia, Finland, France, Germany, Greece, Hungary, Iceland, Ireland, Italy, Kosovo, Latvia, Lithuania, Luxembourg, Malta, Moldova, Montenegro, the Netherlands, North Macedonia, Norway, Poland, Portugal, Romania, Serbia, Slovakia, Slovenia, Spain, Sweden, Switzerland, Turkey, Ukraine or the United Kingdom. Places may be more limited for citizens of countries outside the European Union.
tuition fees
€3000 per participant (taxes included)
Bursaries are available for a limited number of participants. Series Mania Institute will analyze each bursary request according to personal financial resources, and, if relevant, connect participants with sources of financial support.
Series Mania Institute urge all candidates to anticipate further costs that are not included in the tuition fees:
● Travel to and from Lille
● Accommodation in Lille (Series Mania Institute will provide all participants with a list of local options)
● Daily expenses (meals, etc.)
If you have special circumstances, such as a disability, please let us know so that we can discuss your needs. Contact: smi@seriesmania.com
Application form

EUREKA SERIES, FALL 2023
Eureka Series Alumni
Meet Eureka Series selected writers and/or producers from all over Europe!
Discover
Eureka Series – FAQs
Frequently asked questions about Eureka Series.
Discover
Latest update: 2023-04-15