Series Mania, PFDM & EWA Network honor Mo Abudu, CEO of the EbonyLife Gtroup, with second annual Women in Series Award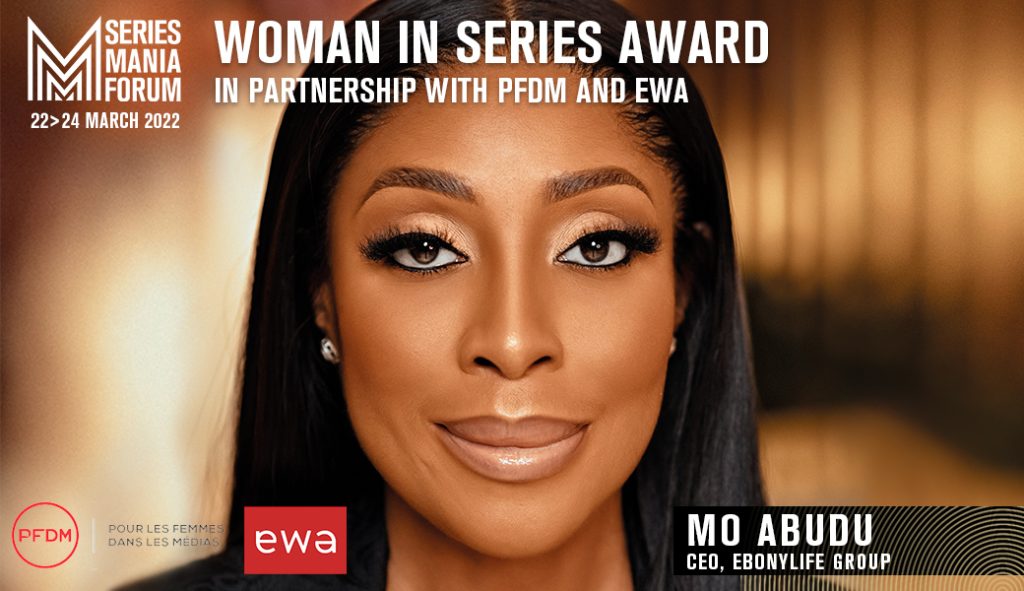 To mark 2022 International Women's Day, Laurence Herszberg, founder and general director of Series Mania (March 18-25), and Francesco Capurro, director of Series Mania Forum (March 22-24), announced Mo Abudu, EbonyLife Group CEO, as the recipient for its Second Annual "Woman in Series Award." (Last year's award went to Christina Sulebakk, GM of HBO Max EMEA).
This award, in association with European Women's Audiovisual Network (EWA Network) and Pour Les Femmes Dans Les Médias (PFDM), is given to a remarkable woman from the audiovisual industry to honor her vision and leadership. Ms. Abudu will be presented with her award on the evening of March 22 at the Forum's Awards Ceremony in Lille. In addition, she will be speaking during the Lille Dialogues (March 24) on a panel entitled "Investing In Talent: How To Drive New Narratives."
Mo Abudu, CEO of EbonyLife Group, has made her mark through various endeavors in the corporate world; she has been described by Forbes as "Africa's Most Successful Woman". Abudu oversees all the divisions of the EbonyLife Group which include EbonyLife Media, comprising EbonyLife Films and EbonyLife Studios, as well as the EbonyLife Creative Academy, a school aimed at accelerating filmmaking skills, and EbonyLife Place, Nigeria's first luxury entertainment resort. She has produced several highest grossing blockbusters to include: Fifty, The Wedding Party, Chief Daddy, The Royal Hibiscus Hotel and Your Excellency. She executive produced Òlòtūré, a Netflix Original feature film that exposes the shady business of human trafficking in Nigeria.
Commenting on being honoured with the award, Ms. Abudu said, "there is nothing more fulfilling and rewarding in life than to be recognized for the things that one loves to do. We all dream of lofty goals becoming a reality, then one day those dreams come true. I'm indeed pleased to see EbonyLife Studios working with a variety of partners all around the world to create and curate powerful content that tells African stories as well as deepening global storytelling around the Black Experience. My thanks to all our partners for trusting us with this important task. And to the EBONYLIFE team, as I often say, we move with love."
While under Abudu's leadership, EbonyLife Media has secured several production collaborations with international studios to include: Sony, AMC Networks (USA), Netflix, Starz and Lionsgate, BBC, Will and Jada Smith's Westbrook Studios and Will Packer Productions. The EbonyLife Group recently launched the EbonyLife Creative Academy in partnership with the Lagos State Government; the fifth largest economy in Africa. Throughout the years, Abudu has been a recipient of numerous awards and international recognitions. Abudu has been invited to join the Academy of Motion Arts and Sciences, popularly known as 'THE OSCARS' in the PRODUCER membership category. The only Sub-Saharan African woman selected in this category. https://ebonylifegroup.com/