getting to lille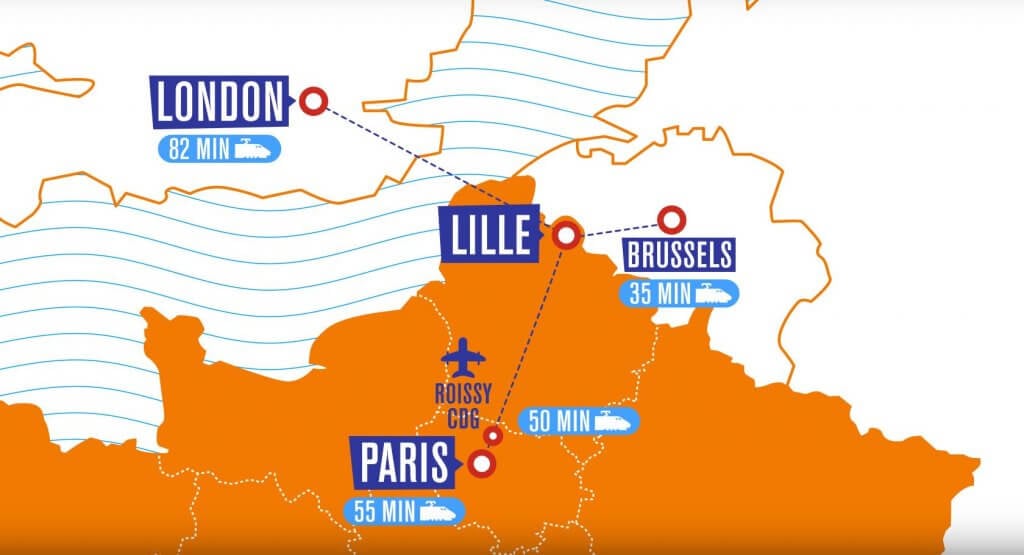 by train
Lille's two train stations are located in the city centre

Lille Flandres Station: TER regional trains and direct TGV service to Paris.
Lille Europe Station: Eurostar service to London and Brussels, direct TGV service to Roissy Airport, Paris and all major French cities:
• Brussels : 38 mn, 14 TGV and Eurostar trains a day.
• Paris : 1h, 26 direct TGVs a day
• London : 80 mn
• Amsterdam : 2h40
by plane
Paris-Charles de Gaulle Airport, Europe's number one airport, is located 27 km North-East of Paris.
Getting to or leaving Paris-Charles de Gaulle:
Paris-Charles de Gaulle SNCF station is located between terminals 2C-2D and 2E-2F.
The station is called "Aéroport Charles de Gaulle 2 – TGV".
From Paris Charles-de-Gaulle Airport with the high-speed TGV train you will arrive directly at Lille-Europe in 50 minutes.
The Lille-Lesquin International Airport is located 10 km from Lille city centre. It serves more than 70 national and international destinations.

Scheduled domestic flights with Air France, Aigle Azur, Air Algérie, Easyjet, FlyKISS, HOP!, Ryanair, Tunisair, Transavia, Volotea and Vueling Companies to and from: Ajaccio, Bastia, Biarritz, Bordeaux, Brest, Calvi, Clermont-Ferrand, Figari, Lyon, Marseille, Montpellier, Nantes, Nice, Perpignan, Strasbourg and Toulouse.
Direct international flights to and from: Amsterdam, Barcelone El Prat, Genève, Alger, Agadir, Oran, Porto, Milan, Athènes, Lisbonne, Naples, Faro, Venise…
Shuttle service from the airport to the city centre (bus stop sign "Liaison aéroport" outside the Euralille shopping center) is available. Length of ride: 20mn.
HOTELS
Register to Series Mania Forum and benefit from advantageous accommodation rates with our partne Selectour (offer available for the Industry and Talent accreditations).

REGISTER NOW
YOUTH HOSTEL
The youth hostel Stephane Hessel, located 10 minutes walk from Lille Grand Palais and 15 minutes walk from the city center, offers fifty rooms at low prices!
Book your youth hostel
Professionnals
Once your request for registration has been approved, take advantage of hotel offers by booking directly online via your personal space.
Register!
The Festival Venues
Over nine days of festivities, the historic center of Lille as well as a number of the region's high-profile venues will play host to Series Mania : the Tripostal, the gare Saint-Sauveur, the Euralille centre, Lille Grand Palais, the Nouveau Siècle, the Majestic, UGC Ciné Cité, the Flow…


The Gare Saint-Sauveur
How to get there?
Another architectural jewel, the 19th-century former station of Saint-Sauveur, now converted into a cultural center, will be the destination for the evening events. Boulevard Jean-Baptiste Lebas, 59800 Lille
Find out more
Lille Grand Palais
How to get there?
5 minutes by foot from the city center and train stations, Lille Grand Palais will welcome the professionals during SERIES MANIA FORUM for 3 days of discoveries, meetings and conferences. Lille Grand Palais 1 Boulevard des Cités Unies 59777 Lille Tél : +33 (0)3 74 09 47 23
Find out more